Fort Knox Comes to Columbus
Columbus, Ohio - With all the Olympic gold medalists there, the Martini restaurant across the street from the Columbus Convention Center looked like Fort Knox last night.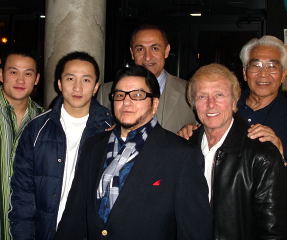 Olympic gold medalists all and star weightlifters (left to right): Zhang Guozheng (China), Shi Zhiyong (China), Chuck Vinci (USA), Yurik Vardanian (Soviet Union), Issac Berger (USA) and Tommy Kono (USA). IronMind® | Randall J. Strossen, Ph.D photo.
Hosted by IronMind® Enterprises, the dinner honored the Olympic gold medalist weightlifters attending the Arnold Fitness Weekend and the special guests from the Chinese Weightlifting Federation: Zhang Guozheng, Shi Zhiyong and Chen Wenbin.

Due to the extraordinary efforts made by the IWF and USA Weightlifting, Tommy Kono had flown all the way back from Istanbul, where he was attending the IWF's centenary celebration, in order to attend this dinner.

Coach Chen Wenbin addressed the dinner group, on behalf of Chinese Weightlifting Federation President Ma Wenguang, expressing his gratitude for the invitation to attend this year's Arnold Fitness Weekend. He said that this was an outstanding bridge builder between the Chinese Weightlifting Federation and USA Weightlifting, and he presented USA Weightlifting Federation President Dennis Snethen their flag.