Forewarned and forearmed: the big guns are setting up in Boomtown this weekend as some of the world's top arm wrestlers will be hitting town.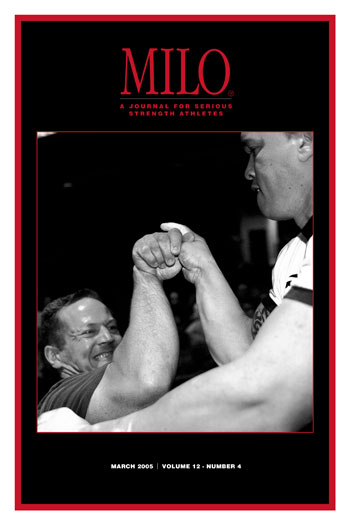 Marcio Barboza (right) and Eric Woelfel made the cover of the March 2005 issue of MILO® after they locked horns in Boomtown in 2004. IronMind® | Randall J. Strossen, Ph.D. photo.
There will be plenty of action, with such headline names as John Brzenk, Marcio Barboza, Cobra Rhodes and Rick Vardell expected to compete in the International Tournament of Champions. Over $12,000 in cash and prizes will be awarded and this is the final 2007 Arnold qualifier.

For full details, please check USA Armwrestling's website or just plan to stop by the Boomtown Casino and Hotel in Verdi, Nevada this weekend.