For (Really Strong) Women Only: CoC 2.5 Certification
In 2011, IronMind began certifying women who could close the Captains of Crush No. 2 gripper according to the rules—a feat of grip strength that very few men can perform—and starting immediately, IronMind will begin certifying women who can do likewise with the Captains of Crush No. 2.5 gripper.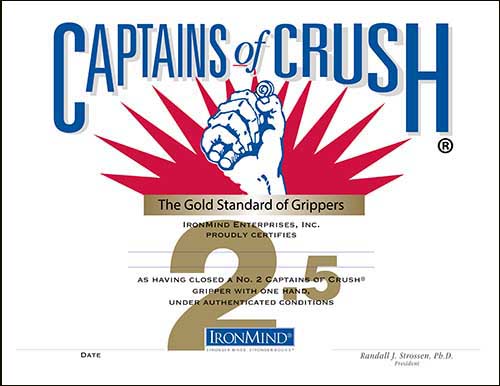 Beginning immediately, IronMind will certify women who officially close the Captains of Crush (CoC) No. 2.5 gripper. Artwork courtesy of IronMind Enterprises, Inc.


Gripper certifications began in 1991 when IronMind created a program to recognize men who officially closed its fearsome No. 3 gripper, the universal symbol of world-class grip strength—with grip strength legends Richard Sorin and John Brookfield being the first two men to achieve this distinction.

As the No. 3.5 and No. 4 grippers were added to the Captains of Crush® Gripper family, certifications on them joined the No. 3, and then in 2011, IronMind took the next step by creating a certification program for women on the Captains of Crush No. 2 gripper. Highland Games star Adriane Wilson was the first women to achieve this honor, and now both Elizabeth Horne and Amy Wattles have done likewise, so IronMind feels it's time to present the next challenge.

###



Visit the IronMind Forum: talk strength, discuss this story. Strongman, grip, Highland Games, Olympic lifting, stones and more.

You can also follow IronMind on Twitter and on Facebook.