Five or Six Americans on Their Way to WSM Finals?
With three events left, the American contingent at the 2008 MET-Rx World's Strongest Man contest is doing so well that at this moment, it looks as if five or six could end up going through to the finals.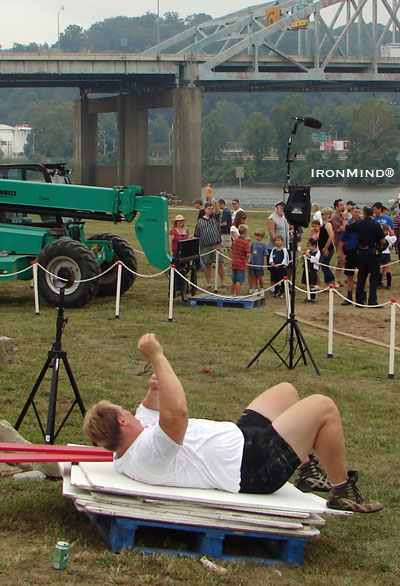 Laid back and armed with the confidence of one who's already won the World's Strongest Man contest, 2006 WSM winner and local hero Phil Pfister relaxes on the set at the MET-Rx World's Strongest Man qualifiers a couple of days ago. IronMind® | Submitted photo.



This morning all the groups either squatted or deadlifted.

In group one, Mark Felix won the deadlift, edging Derek Poundstone on time. Group two squatted, and Oli Thompson took top honors. Kevin Nee won the deadlift in group three, putting himself back in the hunt for a position in the finals. Group four squatted, with Lawrence Shahlaei winning and Arild Haugen finishing second. Group five saw both Jimmy Marku and Travis Ortmayer making the sixth barrel in the deadlift.

Mariusz Pudzianowski was described as "subdued" today, "with none of the rage," but one interpretation of this is that the four-time World's Strongest Man winner is now in a position where he can husband his resources, trying to take things as easily as possible on his way, hopefully, to the finals.