Five for Five: Russians Rewrite the Red Nail Roster
Ivan Beritashvili has been actively building up interest in grip strength and bending in the Moscow area, and when he approached IronMind with the idea of five guys attempting to certify on the Red Nail at the same time, we thought, Why not? and gave him the green light: The success rate was 100% and so it's time to welcome Pavel Khatuntsev, Alexander Yuzvik, Alexey Pritula, Vladimir Abrikosov and Ruben Piliposyan to the Red Nail Roster.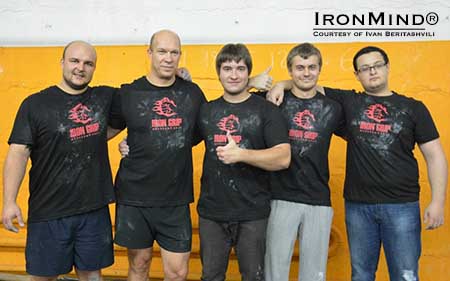 (Left to right) Pavel Khatuntsev, Alexander Yuzvik, Alexey Pritula, Vladimir Abrikosov and Ruben Piliposyan are part of the Iron Grip community and in a first, under the watchful eye of referee Alexei Ovsiannikov, all five took their official attempts on the IronMind Red Nail at the same time and all five succeeded. IronMind® | Photo courtesy of Ivan Beritashvili

Let's meet the latest men to prove their mastery of this world standard steel bend.

Vladimir Abrikosov (26 years old, 183 cm tall, 80 kg bodyweight) told IronMind, "I'm a simple guy from Moscow. In daily life I work [as an] IT project manager. Sport fond of long ago. Once I heard about Russian community 'Iron Grip.' When I came the first time on a joint training, I realized how thrilling workout grip and bending. For a year I trained hard and achieved good results. My plan at the time [was to] get certified on Captains of Crush No. 3 gripper and "Crushed to Dust". If this forthcoming certification will be successful, I will dedicate this victory to my friends, family and 'Iron Grip' community and our trainer Ivan Beritashvili, who always inspires and supports me and support. Big thanks to IronMind company and to referee Alexei Ovsiannikov for certification."

Pavel Khatuntsev (182 cm tall, 115 kg bodyweight) wrote, "I am 27 years old, happily married and have two kids. I'm into grip sport for about year and a half. Under coaching of Ivan Beritashvili and with help of guys from our Iron-Grip community I made a huge progress in bending in last three months.
My week training routine contains one gripper workout and one bending workout.
My next goal is CoC#3 cert. [certificiation on the Captains of Crush No. 3 gripper]."

Alexander Yuzvik (48 years old, 192 cm tall 106 kg bodyweight) "works as a manager of construction company. My hobby is a grip sport (bending nails, working with grippers, Rolling Thunder, Apollon's Axle and so on). On Saturdays I go to Paladin club in Moscow, where I have my workouts with Ivan Beritashvili, Alexey Pritula (certified on the CoC 3) and Dmitriy Lusin (certified on the Red Nail). One side of my hobby - making knot of nails (https://www.youtube.com/watch?v=yVC3BtJJXnU). My goal after successful certification for Red nail is to pass certification for Gold nail (in far future). Besides, I'd like to pass certification for CoC 3 this year. I'm almost ready for that."

Ruben Piliposyan (21 years old, 178 cm tall, 111 kg bodyweight) said, "I am studying in magistracy in the Moscow Nniversity MISiS with a specialization of materials of nanotechnologies. I began bending nails about 2 years ago. I like bending because it is fun to do something that others can't. I found bending very attractive to me because of feeling of moving steel. That feeling is really something special not like closing grippers or lifting weights. Besides bending and grip sport my hobbies are quite usual. I like watching cybersport matches, any kind of music, movies and so on. Also I'd like to thank the Russian grip community and send shout-outs to all my mates from IronGrip."

Alexey Pritula (23 years old, 180 kg, 96 kg bodyweight): "I work as cutting tool sharpening engineer. In beginning of 2010 I found grip sport for myself. My first goal was CoC#3 certification but when I came close to it I accidentally tore my pinky finger tendon. The rehab after the operation lasted for about half-a-year and in April 2013 I succeeded in this certification. 
 Right after that my good friend and coach Ivan Beritashvili asked me if I would like to switch from grippers to bending for some time. I agreed and by end of July I've bent my first Red Nail under certification conditions.
 Then came the idea to certify with my friends, so we've waited until everybody was confident in this accomplishment.
 My next goals are [certification on the] Gold Nail, CoC#3.5 [Captains of Crush No. 3.5 gripper] and the World Record on the IronMind Hub!!"

Congratulations, gentlemen—your names have been added to the Red Nail Roster, the official certification list for the IronMind Red Nail. Many thanks for esteemed referee Alexei Ovsiannikov for serving on this historic occasion and to Ivan Beritashvili who conceived of this grand attempt and helped prepare these five men for their victories.




###



Want to talk strength? Join the IronMind Forum.

You can also follow IronMind on Twitter and on Facebook.