FitExpo Strongman Sneak Preview
Odd Haugen hosted quite a training session last weekend, as six professional strongmen gathered at his house and gave everyone a preview of just how the sparks will fly at the FitExpo.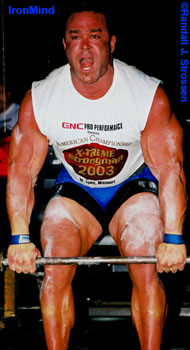 Jon Andersen had cut his teeth in NAS, and in 2003, he hit the ground running at Jim Davis's US Pro Championships in St. Louis. IronMind® | Randall J. Strossen photo.
Jim Glassman, Josh Thigpen, Kevin Nee, Dave Ostlund, Jon Andersen and host Odd Haugen were merciless as they attacked the events. Haugen called Ostlund's performance in the power medley "absolutely outstanding" and he said that Jon Andersen left everyone in the dust on the dumbbell press and in the truck pull. For the record, Andersen did eight reps with the huge dumbbell that is expected to also be included at thet Arnold - it was loaded to 181 pounds, and Andersen did four reps with each arm.

Really marking the intensity level of the pre-contest training session was the assault on the stones as four of these guys (Josh Thigpen, Kevin Nee, Dave Ostlund and Odd Haugen) loaded all six stones, including the infamous Tombstone—the 410-pound stone Odd got for his 55th birthday last year.

The FitExpo is February 17 - 19 in Pasadena, California.