FitExpo Pro Strongman Challenge: US$11,000 and WSM on the Line
With US$11,000 in cash and prizes and the top four finishers guaranteed an invitation to a World's Strongest Man Super Series event, there is a lot on the line at the 2006 FitExpo Pro Strongman Challenge.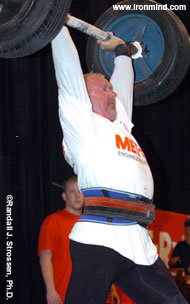 Odd Haugen uses a split jerk to lift the specially-fit IronMind® Apollon's Axle™ at the 2005 Fit Expo Strongman contest (Pasadena, California). IronMind® | Randall J. Strossen, Ph.D. photo.

Calling it the "toughest lineup ever in an all-American strongman contest," Haugen told IronMind® that the contest combines nearly all the top American professional strongmen with the very best of the guys coming out of the amateur ranks, "so you know they will be hungry," Haugen said. "It's going to be very competitive and very hard to get into the top four," Haugen added.

The total prize list of US$11,000 includes a US$3,000 Lifecycle plus US$2,500 cash for first place, Haugen said.

The FitExpo is February 17-19 in Pasadena, California.