FitExpo: "Friday On My Mind"
This weekend's FitExpo in Pasadena, California is going to feature everything from bodybuilding to strongman to weightlifting, and the action starts on Friday with an evening program that features a seminar by IronMind's Randall Strossen, a weightlifting demonstration led by Mike Burgener and Pat Cullen-Carroll, and a strongman demonstration and talk by Odd Haugen and Josh Bryant.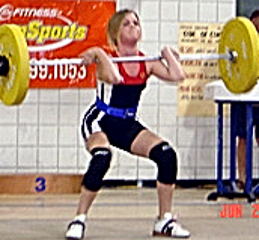 14-year old Sage Burgener will be one of the lifters featured in the demonstration of how to use Olympic-style weightlifting for high school athletes. IronMind® | Photo courtesy of Mike Burgener.
Randall Strossen has been writing the monthly sports psychology column for IRONMAN magazine since 1988, and his seminar, "Winning Ways: How To Succeed in the Gym and Out," is set for 6:30 p.m. on Friday - if you're in a rut or just looking for better results, be sure to catch this seminar.

Next, at 7:30, Nicholas Cullen-Carroll, Josh Aguirre and Sage Burgener will demonstrate the snatch and the clean and jerk, as coaches Pat Cullen-Carroll and Mike Burgener explain how Olympic-style weightlifting can give high school athletes a competitive advantage. If you are new to the snatch, and the clean and jerk, or wonder how to make them work in your school, come here for some answers.

Now it's time to make way for the big guys: Wrapping things up, at 8:15, Odd Haugen and Josh Bryant will talk about strongman and give a demonstration. Odd will be competing in the strongman event at the FitExpo, and Josh Bryant, Odd's training partner, will be competing in the powerliftering contest - lifting raw! Dreaming about competing in the World's Strongest Man contest? Come by and pick up some pointers.

For full information on the FitExpo, please check FitExpo's official web site.

See you there!