Finland's Strongest Man and Finland's Strongest Woman
Finland - the home of heavy strongman contests and many top strongman competitors - has already produced 20 competitors for the Finland's Strongest Man contest, Ilkka Kinnunen told IronMind® today.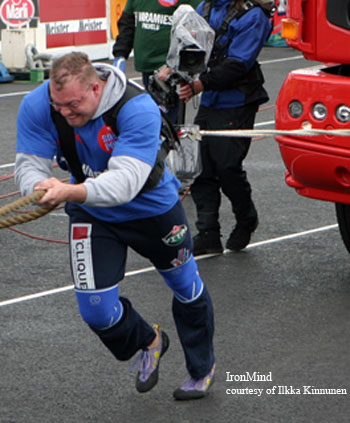 Juha Rasanen on a truck pull - looks like it was raining, but Finnish strongman contests are not for the faint of heart. IronMind® | Photo courtesy of Ilkka Kinnunen.

This contest is set for Turku on June 8 - 9, and the men's qualifying round will have three events - Farmer's Walk, Log Lift for maximum weight and Deadlift for reps - and then the top eight competitors will go on to a three-event final round: Car Walk, Loading and Wheelbarrow.

The women's side already has 11 competitors signed up, Kinnunen said, and it will follow the same pattern as the men: the qualifying events are Farmer's Walk, Hercules Hold and Log Lift for reps, and then the top eight women will advance to the finals, where their events will be Car Pull with harness and rope, Loading and Wheelbarrow.

Organized by Suomen Vahvin Miesry, Illka Nummisto and Markku Suonenvirta are the prime movers behind the contest, Kinnunen said. Nummisto, Suonenvirta and Kinnunen will referee the contest.