Final Qualifiers for Armwrestling at the 2005 Arnold
In the 53rd edition of the World's Wristwrestling Championships, Saturday night, the final competitors qualified for the highly-sought remaining slots at the 2005 Arnold Armwrestling Challenge.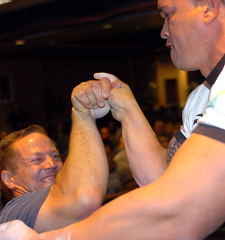 Eric Woelfel (left) and Marcio Barboza (right) going for the glamour title: Men's pro, righthand, 243+. Brazil's Marcio Barboza, the defending Arnold champion, won. IronMind® | Randall J. Strossen, Ph.D. photo.
Besides the titles themselves, what was also on the table was the right to compete in the 2005 Arnold Armwrestling Challenge, so the action was especially hot in the packed Boomtown (Nevada) Casino main ballroom last night.

On the men's side, the final qualifiers were: Flori Dutra, Jr., Devon Bair, Jeremy Plaster, Allen Fisher, Mike McGraw, John Parton, Jacob Abbott, Kenny Hughes, Herman McCoy, Marcio Barboza, Harold Owens and Clay Rosencranz. Elaine Blik and Jennifer Hoffert picked up the last two women's slots at the 2005 Arnold.

For results from this contest, please check the US Armwrestling website and for more information on armwrestling, and other events, at the 2005 Arnold Expo, please check the Expo website.