Federation of Australian Strength Competitors Sign Agreement with Chinese Strongman Federation
Bill Lyndon, head of the Federation of Australian Strength Competitors (FASC), signed an agreement with Wang Hao, president of the Chinese Strongman Federation to expand cooperation between the two groups for the advancement of strongman.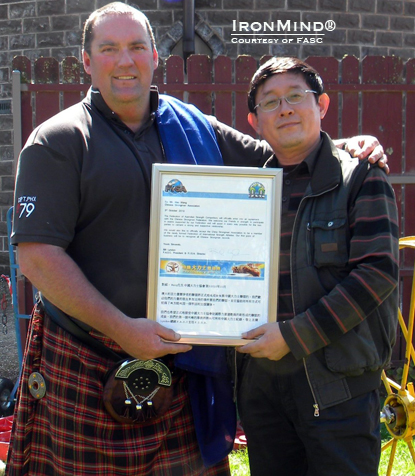 FASC president Bill Lyndon (left) and Chinese Strongman Federation president Wang Hao (right) have agree to expand their cooperation. IronMind® | Courtesy of FASC.


Bill Lyndon released this statement.

"The Federation of Australian Strength Competitors hosted a very special guest this past weekend at one of our Amateur Strongman competitions. Mr. Hao Wang, the president of the Chinese Strongman Federation, attended our event with his family to exchange dialogue and ideas in the development of the sport for both nations.

"The strongman sport is relatively small in China in comparison to its population of 1.3 billion persons, but is extremely popular. Australia is positioned well in the region to offer support to our Chinese neighbor in the development of strongman as a sport and have now created an agreement of co-operation to help support each other.

"Mr. Wang is a producer of strongman events via their state-run television network in China and has turned his hand to strongman in the past five years and said via his interpreter he has, 'fallen in love with the sport and is very serious to see it succeed.'

"Australia and China will be working towards staging several events in the coming years and are now planning events to take place in both nations to support each other's development. Australia will also support China in an assistance program through accurate communications to help recognize their records and accomplishments, which will give credibility and help formalize their organization."

###


Want to talk strength? Join the IronMind Forum!

You can also follow IronMind on Twitter.