Farzad Mousakhani: Strongman and Powerlifting PRs
ISA and Asia Strongman Federation president Omid Amiri has given IronMind some more background on Farzad Mousakhani's best performances, to help us and others gauge Mousakhani's readiness to succeed at top levels in strongman, as Omid Amiri is predicting.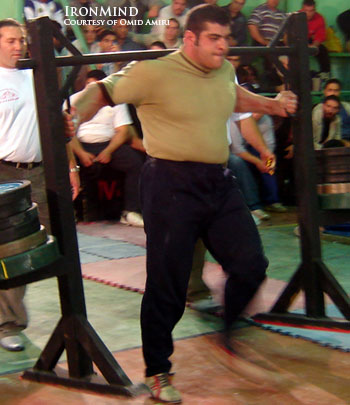 Omid Amiri sent IronMind® this photo of Farzad Mousakhanian in what is described as a record-breaking performance in the yoke. IronMind® | Photo courtesy of Omid Amiri.
In response to IronMind®'s requests for additional details on Farzad Mousakhanian's best performances, here is the list of his strongman records, according to Omid Amiri:

1. Log Lift for reps: 140 kg for 9 repetitions in 60 seconds
2. Log Lift for maximum weight: 195 kg
3. Farmer's Walk with 150 kg in each hand: 40 meters in 18.65 seconds
4. Yoke Race with 380 kg: 20 meters in 9.20 seconds
5. Yoke Race with 410 kg: 20 meters in 16.80 seconds
6. Deadlift: 360 kg for 7 repetitions
7. Maximum Deadlift (powerlifting rules): 400 kg
8. Stones: 200 kg, 4 repetitions, 140 centimeters

Since a big deadlift was originally cited as an indication of Farzad Mousakhanian's readiness to wreak havoc at the highest levels in strongman, IronMind® asked for any additional specifics Omid Amiri had available on Farzad Mousakhanian's powerlifting performances.

"Farzad Mousakhani is three times in Iran power lifting in +125 kg best championship and winner," Omid Amiri told IronMind®. "His record in deadlift: 400 kg; bench press: 280 kg; squat: 410 kg; and total: 1090 kg without used any drug and doping (natural) IPF rules."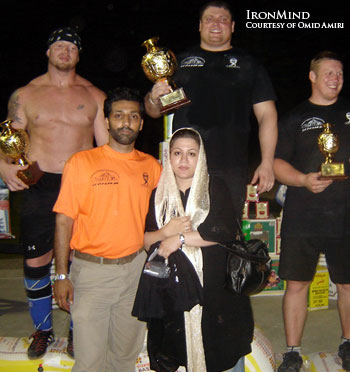 Iran's Omid Amir shown with his wife, Nansi, at the 2006 IFSA Dubai Grand Prix (won by Zydrunas Savickas, with Andrus Murumets second and Geoff Dolan third) has been predicting great things of Farzad Mousakhanian. IronMind® | Photo courtesy of Omid Amiri.