FORTISSIMUS - Strongman Champions League: Cooperation and Joint Statement
Last year, FORTISSIMUS and Strongman Champions League announced that "FORTISSIMUS has guaranteed that the top 5 athletes of Strongman Champions League will have a premium slot in FORTISSIMUS 2009," and now added detail about the agreement has been officially released.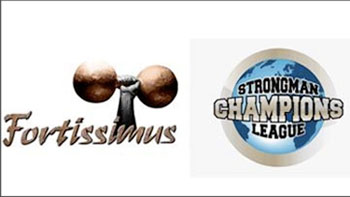 FORTISSIMUS and Strongman Champions League are moving forward with the agreement they reached last year. IronMind® | Artwork courtesy of FORTISSIMUS and Strongman Champions League.


In a joint statement issued by FORTISSIMUS, this year's competition "will be organized and promoted in close partnership with the Strongman Champions League (SCL). In 2008, the SCL had 45 top strength athletes competing, representing more than 20 countries. The top five, based on the year 2008 results, will be invited to compete at Fortissimus."

And as a further indication of of how this partnership is developing, IronMind® was also told that, "Marcel Mostert, head of the Strongman Champions League, is expected to deliver a live statement from Europe at the press conference," referring to the media event FORTISSIMUS has scheduled for later this week.

Messrs. Mostert and Ohl have released the following statement: "The agreement between Strongman Champions League and FORTISSIMUS WORLD STRENGTH is a huge step towards the future of strongman sport. It will insure a new trend in cooperation and promotion of strength athletes. That agreement will also give a tremendous exposure to the 2009 Fortissimus competitors via EUROSPORT broadcasting."