FORTISSIMUS Honored for Outstanding Civic Achievement
Once again breaking new ground, Fortissimus 2009 has "has been nominated as finalist to the Pleiades 2009 Award of Excellence, a prestigious prize given out by the Board of Trade of the city of Lévis, Canada," according to an official statement.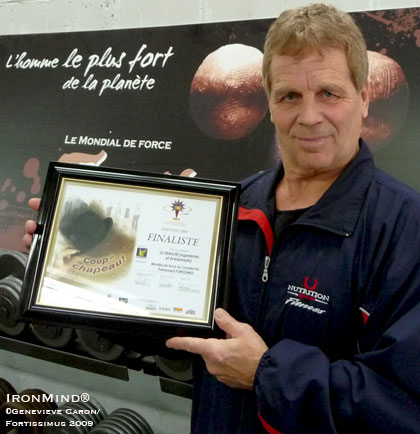 It began with a concept and a dream, and when someone was needed to turn those visions into reality, Paul Ohl was tapped to do the job. Here, M. Ohl holds the certificate Fortissimus 2009 earned from the city of Lévis, Canada. IronMind® | Photo courtesy of Geneviève Caron/Fortissimus 2009.

"With this selection, FORTISSIMUS becomes the first-ever strongman organization in Canada to contest for top honors in the field of community outstanding achievement of the year," continued the statement.

"This is all about an all-inclusive effort. We are striving for excellence, nothing less. And we want to share this with the strength athletes who stood by us last year and made it all happen. Every day they remind us that the will shows the way," said Paul Ohl, president of FORTISSIMUS 2009.

"When we decided to commit for the future with FORTISSIMUS, we knew that we were sending a strong message to other communities in this country. This recognition is proof that the sport of strongman is not a sideshow; it is a much-valued asset from an economic and cultural point of view," said Marcel Catellier, chairman of the FORTISSIMUS Board of Directors.