FORTISSIMUS 2008: The Challengers
Fortissimus Steering Committee Chairman Paul Ohl has given IronMind® the list of athletes for next summer's Louis Cyr World Strength Challenge, and in explaining his position, Ohl calls it, "a question of principle."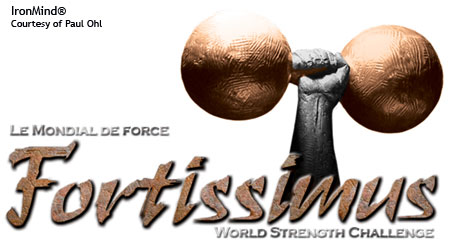 After some adjustments following a round of discussions with IFSA, the Fortissimus Steering Committee has released the start list for next year's Louis Cyr World Strength Challenge. IronMind® | Logo courtesy of Paul Ohl.
Following is the complete statement, as given to IronMind®, by the Fortissimus Steering Committee:

"From the beginning FORTISSIMUS Steering Committee had principles and guidelines concerning the concept of the competition. It had made clear that it would not get involved in strongman politics or controversies. It also stated that it would favor athletes that were free of speech and willing to compete at the highest level, no matter what the quality of the field would be nor the toughness of the events.

FORTISSIMUS further stated that it would not get into any deal that would lead to influencing the invitations, the events and the refereeing in order to better the chances of a selected few based on their affiliation.

Finally, FORTISSIMUS refused any discussions leading to tailor-making events or money issues.

Based on these facts, FORTISSIMUS has officially informed three IFSA strength athletes (Zydrunas Savickas, Vasyl Virastyuk and Michael Koklyaev), that given IFSA's management's attitude, they are now considered as having withdrawn from the LOUIS CYR WORLD STRENGTH CHALLENGE and therefore failed to stand to its challenge.


THE CHALLENGERS

They come from Poland, Sweden, United Kingdom, West Indies, United States of America and Canada. They combine 6 World Strongest Man titles, 15 podiums at World strength competitions and they have qualified for 30 finals at World strength competitions. They are the official challengers of FORTISSIMUS 2008 and they will battle the Decathlon of Strength on 28-29 June 2008.


FROM POLAND

Mariusz PUDZIANOWSKI
The overall No. 1-ranked strength athlete on the planet.
World's Strongest Man in 2007, 2005, 2003 and 2002
World champion of Super Series in 2007, 2006, 2005 and 2004

Sebastian WENTA
The runner-up at the World's Strongest Man 2007
Finalist at the WSM 2006


FROM SWEDEN

Magnus SAMUELSSON
World's Strongest Man 1998
5 podiums at the WSM: 2004, 2001, 2000, 1998, 1997
9 finals WSM
Most wins ever in international strength competitions from 1995 to 2007


FROM UNITED KINGDOM

Terry HOLLANDS
Podium at the World's Strongest Man 2007
2 finals at WSM 2007, 2006
United Kingdom's Strongest Man


FROM THE WEST INDIES ( GRENADA )

Mark FELIX
2 finals World's Strongest Man: 2007, 2006
Champion, British Strongman Championships 2005


FROM THE USA

Phil Pfister
World's Strongest Man 2006
5 finals World Strongest Man (2007, 2006, 2001, 2000, 1998)

Derek POUNDSTONE
America's Strongest Man 2007
Finals IFSA Strongman World Championships 2007
Runner-up World Strongman Challenge 2006


FROM CANADA

Jessen PAULIN
Finals World's Strongest Man 2003
Champion North America Championships 2007
Canada's Strongest Man 2006, 2005

Dominic FILIOU
Podium World's Strongest Man 2005
Canada's Strongest Man 2007


HOST WILD CARD
To be noted that CANADA will hold one alternate spot."