FORTISSIMUS '09: Get Ready for the Next Act
They rocked the strongman world with their debut in 2008, but don't think the FORTISSIMUS organizing committee has been resting on its laurels since then.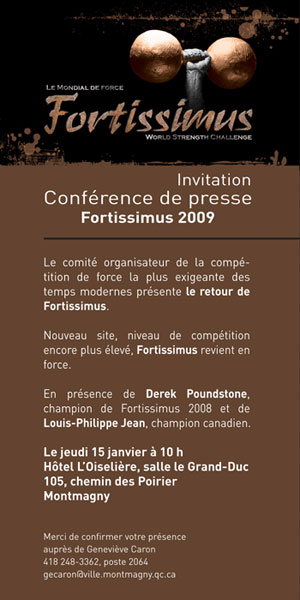 If you thought FORTISSIMUS 2008 was big, wait until you hear what has been planned for 2009. A press conference next week will present some highlights of the 2009 strongman contest extraordinaire. IronMind® | Image courtesy of FORTISSIMUS World Strength.

A press conference is set for January 15, and a new site and an even bigger and better version of FORTISSIMUS will be described, with 2008 FORTISSIMUS champion Derek Poundstone and Canadian strongman champion Louis-Philippe Jean on hand, along with key members of the 2009 FORTISSIMUS organizing committee.

Stay tuned for more details on FORTISSIMUS 2009.