Evgeny Chigishev Said to Be Starting at the World Weightlifting Championships
IronMind®'s Russian correspondent Sergey Klimakov had a phone conversation with Russian Weightlifting Federation General Secretary Yuri Teryaev on our behalf and while Mr. Teryaev said that he could not yet "give their comments on the composition of the national team at the World [Championships] in Turkey," there is every expectation that the powerhouse Russian team will include super heavyweight star Evgeny Chigishev.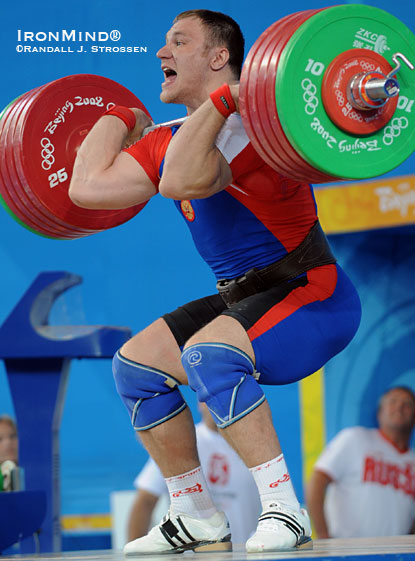 After making five good attempts at the 2008 Olympics, including a huge 210-kg snatch, Russia's Evgeny Chigishev polished off this 250-kg clean and jerk, looking as if he had room to spare. IronMind® | Randall J. Strossen photo.


Head Russian weightlifting coach and former Olympic champion David Rigert has noted in recent interviews that the Russian men's team will concentrate on the categories from 85 kg upward, where the team has traditionally been the strongest.

Based on Rigert's comments the pool of candidates might well include Rinat Kireev, Apti Avkhadov and Oleg Perepechenov in the 85-kg category; and Alexander Ivanov and Andrei Demanov in the 94-kg category. In the talent-laden 105-kg category, Dmitry Klokov and Vladimir Smorchkov would seem to be the front runners, with Yuri Tegkaev possibly being the most likely backup.

As reported earlier, Dmitry Lapikov has moved up the super heavyweight (+105-kg) category, but he is not expected to be lifting in Antalya—possibly being developed for bigger things to be unveiled at the 2011 European Weightlifting Championships. Although no official announcement has been made listing the Russian team, the interviews with Rigert give every indication that Evgeny Chigishev will be starting and that he will be joined by either Andrei Kozlov or Chinghis Mogushkov.

"The main objective of the Russian team in weightlifting is a successful performance at the Olympics in 2012 in London," said Rigert, as reported by Allsport and translated for IronMind® by Sergey Klimakov.

Tomorrow, the Russian weightlifting team moves its training camp from Taganrog to a location near Moscow, and an official announcement of the Russian team roster for the World Weightlifting Championships is expected shortly.

###

Want to talk strength? Join the IronMind® Forum!

You can also follow IronMind® on Twitter.