Events and Format for WSMSS Moscow GP
The WSMSS Moscow Grand Prix will follow a two-day format, featuring eight events, and the field will begin with 14 competitors and then be cut to the top ten for the last two events.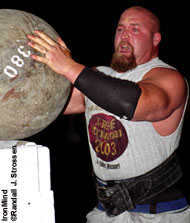 Don Pope (shown loading the 380-lb. stone at the 2003 Xtreme Strongman Challenge in St. Louis) has notched some impressive performances at the World's Strongest Man contest, and he will be competing at the WSMSS Moscow Grand Prix with an eye toward qualifying for the 2006 MET-Rx WSM contest. IronMind® | Randall J. Strossen, Ph.D. photo.
On day one, the events are: Thule Stones of Strength, log lift for reps, car deadlift for reps, tire flip. Day two begins with the power stairs, and then the farmer's walk, before the field is cut to the top ten for the last two events: Scania truck pull and power medley comprising a farmer's walk, tire flip and barrel load.