Europeans: Training Hall Today
Strasbourg - Things were pretty quiet in the training hall today at the European Weightlifting Championships . . . until the top Poles and Russians from the heavier classes walked in.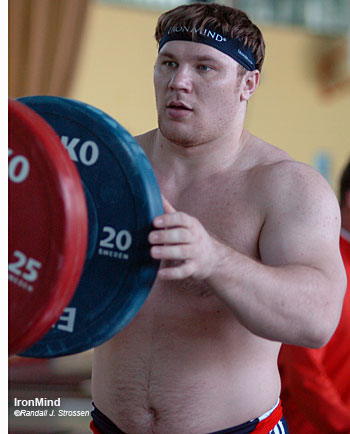 MILO cover guy and superheavyweight gold medalist in the snatch at the 2005 World Weightlifting Championships, Evgeni Tchigichev (Russia) wrapped up his training at the European Weightlifting Championships today with some light squats and presses. IronMind® | Randall J. Strossen, Ph.D. photo.

Marcin Dolega and Szymon Kolecki turned the tide when the pair heavily favored for medals in the 105- and 94-kg categories, respectively, strolled in. Dolega drilled more than any other lifter in the training hall today, going up to 150 in the snatch and doubling it for several sets. He gave 170 kg similar treatment in the clean and jerk.

Kolecki has been creating a major buzz in the weightlifting world in recent months because of his top performances earlier this year. "He is the Szymon of old," the Polish coaching staff told IronMind®, explaining the back trouble that had been plaguing the lifter with superstar potential was finally under control. Talking after his workout today, Szymon told IronMind®, "If things go well tomorrow and I snatch 180, then I will clean and jerk 217, 218 or 219. I am ready for 230, but the Europeans are not the Worlds."

Other stars in the training hall today included Dmitry Lapikov (Russia), who won the 105-kg gold medal in the snatch at the 2006 World Weightlifting Championships and came within a whisker of taking home the whole enchilada . . . lifting in the B session at close to midnight.

And for more even more rumble in the jungle, Russian super heavyweight Evgeni Tchigischev was training, too.

In a lift that still has the fans gushing, at the 2005 World Weightlifting Championships (Doha, Qatar), Tchigishev outsnatched the mighty Hossein Rezazadeh - which is impressive enough any way you slice it, but Chigishev - who was giving up nearly 40 kg of bodyweight - faced a hostile Iranian crowd that kept booing as he lifted. No matter, though, because guess who snatched 211 kg for the gold medal?