European Weightlifting Federation Congress
Wladyslawowo, Poland - The European Weightlifting Federation Congress included announcements related to new equipment, upcoming contests and the continued pressure to run a clean sport.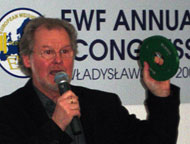 Eleiko managing director Johan Erling presents the new plate that will be used for the first time at this year's European Weightlifting Championships in Wladyslawowo, Poland. IronMind® | Randall J. Strossen, Ph.D. photo.

Some of the highlights of the meeting include:

1. The Polish Weightlifting Federation, host of this year's European Weightlifting Championships, marked its 80th anniversary, and was widely congratulated for its service to the sport.
2. IWF President Tamas Ajan emphasized the need for a clean sport and said there is "no excuse" for a competitor to be positive.
3. There will be three Olympic qualification events for 2008: the 2007 and the 2008 World Championships, as well as the 2008 Europeans.
4. Strasbourg, France will host the 2007 European Weightlifting Championships.
5. Claus Umbach and Jurgen Lippmann presented the latest edition of a system for analyzing lifts.
6. Eleiko has a new plate design for the 2.0-, 1.5-, 1.0- and 0.5-kg plates that relies on friction to hold them in place, so that they can be used outside the collar.