European Weightlifting Championships: Valentin Hristov Sweeps the 56-kg Category
With the retirement of Halil Mutlu, it was assumed that Europe would be far behind the top Asian weightlifters in the men's 56-kg category, but tonight Valentin Hristov proved that assumption wrong.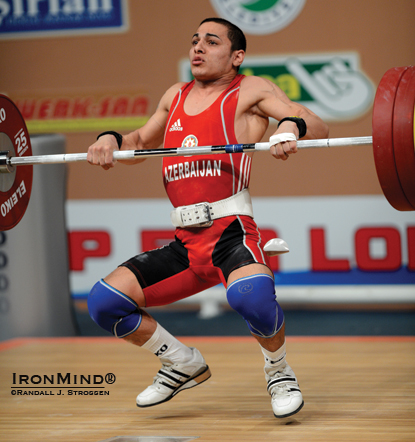 Valentin Hristov races under 155 kg: he won all three gold medals in the 56-kg category at the 2012 European Weightlifting Championships. IronMind® | Randall J. Strossen photo.


Only 18 years old, the former Bulgarian who now represents Azerbaijan ended the evening with a 125-kg snatch and a 155-kg clean and jerk: he went six-for-six, swept the gold medals and broke all three Junior European records. Not a bad night's work.


###

Visit the IronMind Forum: talk strength, discuss this story. Strongman, grip, Highland Games, Olympic lifting, stones and more.

You can also follow IronMind on Twitter.