European Weightlifting Championships: Turkish Gold
Kazan, Russia—It's a powerhouse in weightlifting and Turkey has been flexing its muscles at the European Weightlifting Championships, winning three of the four categories contested so far, as it pocketed more medals in last night's action.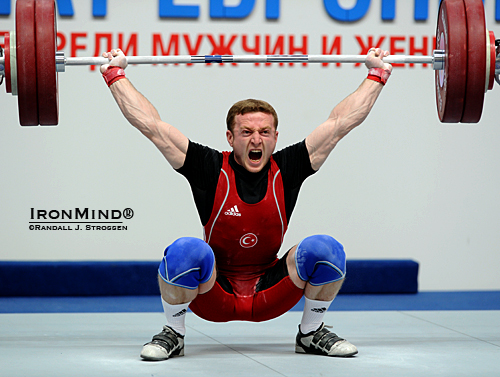 62-kg Bunyami Sezer (Turkey) earned the gold medal in the snatch with this 140-kg lift at the European Weightlifting Championships last night in Kazan, Russia. IronMind® | Randall J. Strossen photo.


On the opening day of competition, Turkey's Nurcan Taylan won the women's 48-kg class and earlier yesterday, Aylin Dasdelen won the women's 53-kg class, a roll that Bunyami Sezer continued as he swept the men's 62-kg class. Only Oleg Sirghi (Moldavia), winner of the men's 56-kg category, has been able to break through the Turkish team's domination of the lightest body weight categories.

All that gold translates into a substantial financial bonus for the victorious Turkish weightlifters as the Turkish Weightlifting Federation rewards a gold medal in the total with a bonus of 100,000 euros (about US$145,000).


###

IronMind Forum: talk strength, discuss this story. Strongman, grip, Highland Games, Olympic lifting, stones and more.

You can also follow IronMind on Twitter.