European Weightlifting Championships: Oleg Chen Wins the 69s
A missed snatch by Daniel Godelli opened the door for Oleg Chen, who seized the opportunity and went on to victory in the 69-kg class at the 2013 European Weightlifting Championships in Tirana, Albania.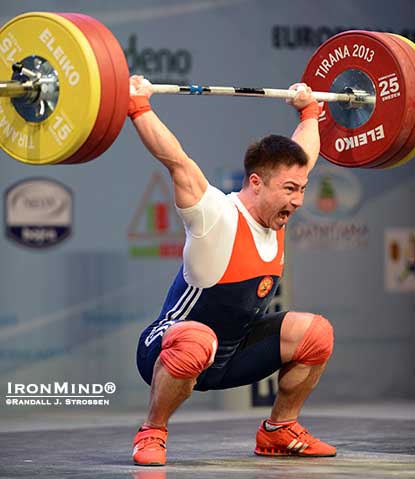 Oleg Chen (Russia) on the way up with his 155-kg snatch, a lift that would give him his go-head margin for the gold medal in the total as well. IronMind® | Randall J. Strossen photo.


The Albanian fans were out in full force to support their two lifters in the Briken Calja and Daniel Godelli, but things went off the rails in hurry for Calja when he missed 142 kg in the snatch once, twice and then a third time as well.

Godelli tested local nerves further when he came out and missed his opener in the snatch, 145 kg. He repeated for a success and then missed 153 kg on his third attempt in what would prove very costly. Sardar Hasanov (Azerbaijan) also missed 145 on his opener, came back to make it on his second, but he didn't stop there—he made 150 kg on his third attempt.

If Calja and Godelli struggled with 145 kg, Oleg Chen added insult to injury when he ripped 146 on his opener as if he had a couple of warmups to go. Chen then demolished 152 kg and 155 kg, appearing to be brimming with confidence.

Hasanov and Chen both finished the clean and jerk with 176 kg, leaving Godelli with two attempts, and while the gold medal in the total was out of range, the gold in the clean and jerk was within his grasp—all he needed to bump Chen was to clean and jerk 177 kg.

Godelli was almost disdainful of the weight as he ripped it up and quick jerked it, only to lose control as he was recovering. No matter, because showing how really little he thought of the 177 kg, he moved up to 180 kg on his third attempt and punched it overhead for a gold medal that was manna from heaven for the Albanians fans packing the competition hall. Pity that he'd missed his third snatch or he'd have had the gold medal in the total as well.

###



Visit the IronMind Forum: talk strength, discuss this story. Strongman, grip, Highland Games, Olympic lifting, stones and more.

You can also follow IronMind on Twitter.