European Weightlifting Championships: Fireworks in the 77s
Kazan, Russia—The men's 77-kg class was supposed to be hotly contested and most likely come down the final clean and jerk, which proved to be the case, but what hadn't been predicted was that the protest after that lift would be as lively as the lifting itself.



Semih Yagci (Turkey) won the men's 77-kg class at the European Weightlifting Championships last night, beating Arayik Mirzoyan (Armenia) on body weight with this controversial 192-kg clean and jerk. IronMind® | Randall J. Strossen photo.


The snatching, even if not world class, was competitive and a joy to watch as no first attempts were missed, and only three second attempts. Mirzoyan won the snatch with 160 kg, after making his opener, 155 kg, missing 160 kg, and then coming back and making it on his third attempt. Erkand Qerimaj (Albania) was second, with 157 kg and Semih Yagci was third, with 155 kg. Reflecting the tight race, Yagci was one of three lifters who made that weight.

Clean and jerk bronze medalist Alexandru Rosu (Roumania) opened with a big 185 kg for a success, but then he missed 189 kg on both his second and third attempt, which set the stage for the duel between Mirzoyan and Yagci.

Yagci had opened with 181 kg, and Mirzoyan answered with 183 kg on his first attempt, to maintain his gold medal position. Mirzoyan missed 187 kg on his second attempt and then made it on his third attempt, as Yagci sat in the wings, biding his time.

Yagci hit 188 kg on his second attempt, to cut Mirzoyan's lead to 4 kg, and on his third attempt, he called for the 192 kg that would give him the victory on body weight. Yagci made the lift and got three white lights, although he might have benefited from a quick down signal, a point not missed by the Armenian team which then swarmed the jury's table en masse, vigorously presenting their opinions about the lift.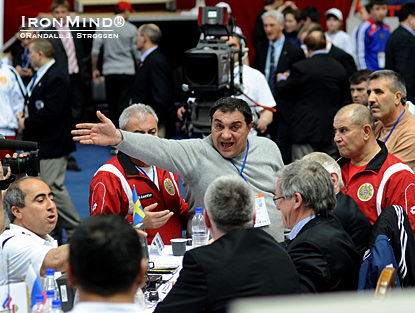 The Armenian team left no doubt about what they thought of Yagci's medal-winning lift, as they thrust their case on the jury. IronMind® | Randall J. Strossen photo.

###

IronMind Forum: talk strength, discuss this story. Strongman, grip, Highland Games, Olympic lifting, stones and more.

You can also follow IronMind on Twitter.