European Weightlifting Championships: Evgeny Chigishev Wins the Supers
Minsk—Picking up where they left off in Beijing, Matthias Steiner and Evgeny Chigishev battled it out to the last lift again, and this time it was Chigishev who won, leaving as the super heavyweight champion at the 2010 European Weightlifting Championships.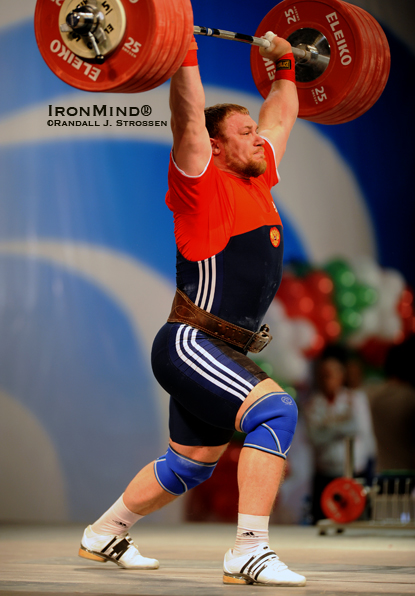 Evgeny Chigishev sticks 235 kg on his opening clean and jerk—all he needed for the 2010 European Weightlifting Championships super heavyweight title. IronMind® | Randall J. Strossen photo.


Matthias Steiner opened in the snatch with 190 kg, for a good lift, but then he missed 195 kg twice—once behind and once in front. Chigishev sailed through 195, 200 and 205 kg, to end the snatches with a 15-kg lead over Steiner, plus being the lighter man.

Chigishev took 235 kg for his first clean and jerk and made a good lift. Steiner, who had opened with a good 230 kg, made another good attempt with 236 kg. Chigishev took 240 kg on his second attempt, but grabbed his hamstring as he tried to clean the weight and was forced to retire with just one clean and jerk on the board. Steiner, showing the heart of a champion, called for the 251 kg he needed for gold medals in the jerk and total, but after cleaning the weight, he missed the jerk.

Ruben Aleksanyan (Armenia) served notice that he's someone to watch: the 20-year-old snatched 195 kg for the silver medal, cleaned and jerked 237 kg for the gold medal, and totaled 432 kg for another silver medal. If that's not enough, twice he attacked the junior world record in the jerk, cleaning 246 kg only to miss the jerk.