European Weightlifting Championships: Chigishev, Steiner, Scerbatihs
The earth will tremble under their feet as the top super heavyweight competitors at the European Weightlifting Championships are expected to snatch over 200 kg, and clean and jerk over 250 kg in Antalya, Turkey next month.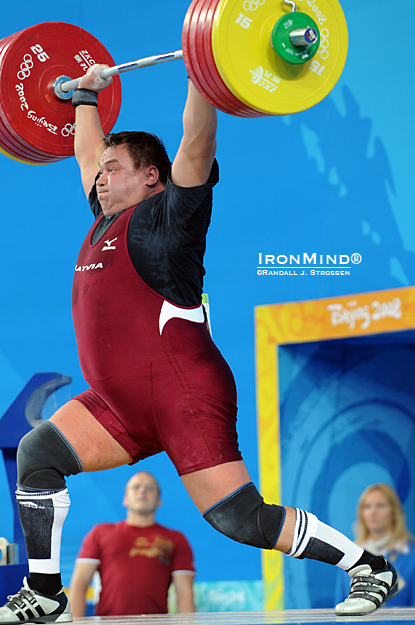 257 kg overhead: This is how close Viktors Scerbatihs (Latvia) came to making what most likely would have been the gold medal lift at the 2008 Olympics. Scerbatihs is entered in the upcoming European Weightlifting Championships, on his way to competing in his fifth Olympics. IronMind® | Randall J. Strossen photo.


Some of the biggest names in recent years are on the start list: Evgeny Chigishev (Russia), Viktors Scerbatihs (Latvia) and Matthias Steiner (Germany). Also entered for Russia is Andrey Kozlov, who totaled 420 at the 2010 World Weightlifting Championships.

The men's 105-kg class has been tipped as possibly being the hottest of all at the London Olympics, and it is going to feature David Bedzhanyan (Russia), coming off his world record performance at the 2011 President's Cup. Also representing Russia is Maxim Sheyko (2008 Junior World Champion in the 94-kg category) and Marcin Dolega (multiple world champion and world record holder) will be doing the honors for Poland.

Start thinking "Pull hard, move fast," and watch for more updates in the IronMind news.

###

The IronMind Forum: discuss this article, talk strength, get help with your training.

You can also follow IronMind on Twitter.