European Weightlifting Championships
With just under one week to go, weightlifting fans around the world are getting ready for the European Championships - always one of the top competitions of the year.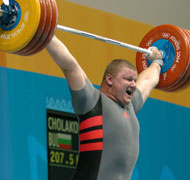 Super heavyweight (+105 kg) Velichko Cholakov (Bulgaria) hit this huge 207.5-kg snatch at the Athens Olympics, on his way to the bronze medal. IronMind® | Randall J. Strossen, Ph.D. photo.
The starting field is filled with medalists from the Athens Olympics, from the 56-kg category (Halil Mutlu, gold medalist and and Artuc Sedat, bronze medalist - both from Turkey) to the +105 kg category (Viktors Scerbatihs, the silver medalist, from Latvia, and Velicho Cholakov, the bronze medalist, from Bulgaria).

This marks the beginning of the buildup to the Beijing Olympics, so watch for signs of what you will see in 2008. Halil Mutlu, for example, who has talked about moving up in body weight classes, is, in fact, entered in the 62-kg category, and Velichko Cholakov, frequently mentioned as a comer in the super heavyweight class, snatched 197.5 and cleaned and jerked 230 kg in a contest a few weeks ago, so he is expected to lift some pretty impressive weights at this year's Europeans.