European Rolling Thunder® Championships
The 2009 European Rolling Thunder® Championships are set for April 18 in Helsinki and contest organizer Sakari Selkäinaho told IronMind®, "This event has gotten really great responses: I am very glad to notice that so many top-level international competitors are coming in."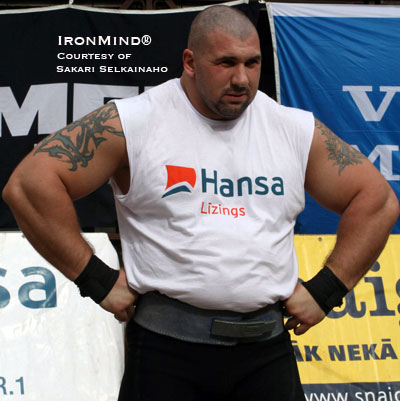 Mareks Leitis (Latvia) will be competing in the 2009 European Rolling Thunder® Championships on April 18 in Helsinki, Finland. IronMind® | Photo courtesy of Sakari Selkäinaho.


"The event has Finland's finest as well," Sakari said. "National grip champion Juha Harju will challenge world-famous strongman Janne Virtanen," a World's Strongest Man Winner. "Fast rising gripster Timo Tuukkanen will challenge them both," and to make things more interesting, Timo will first be attempting to officially close a No. 3 Captains of Crush® Gripper as he goes for his certification on this most famous of all feats of grip strength.

"Kimmo Kokko," whom Sakari has named the "Father of Finnish Grip Strength," says, "All our guys are at the best shape ever and anything can happen."

Top international competitors include Mark Felix (England), Steve Gardener (England) and Mareks Leitis (Latvia). "This it the finest lineup in any grip contest in Finland ever," Sakari Selkäinaho said proudly. Sakari told IronMind® that he is still waiting on few more international entries and will do his very best to let everybody in who wants to have some fun and put his grip strength to the test.

"Anyone else willing to compete" asks Sakari, who has "three more spots available to anybody who is willing to prove his grip strength in a real challenge by IronMind® standards."

"The Rolling Thunder® starts to roar at 1 p.m.," Sakari said, "at the Culture House, a five-minute walk from downtown Helsinki. We'll start with the certification attempts on Captains of Crush® grippers. Anybody interested? We are ready! Just contact IronMind® first."

For more details, please email Sakari at sakke@voimaharjoittelu.fi or info@sportkraft.net. For the rules on getting certified on Captains of Crush® grippers, please check here: Captains of Crush® Grippers - Rules for Closing and Certification.