Ervin Katona: Guinness World Record on Tire
Ervin Katona broke the Guinness World Record for the Tire Flip as he covered the 10-meter up- and-back course (20-meters total) with a 420-kg tire in 42.00 seconds, Marcel Mostert reported to IronMind.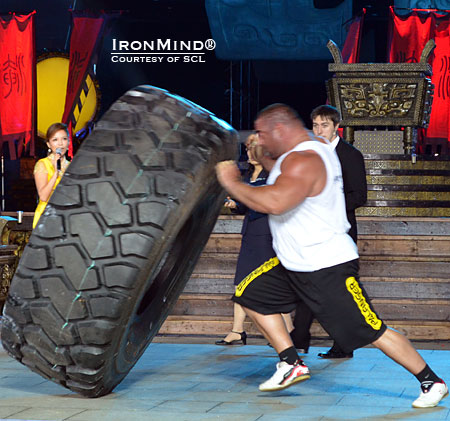 Ervin Katona on his way to a Guinness world record it the Tire Flip. IronMind® | Courtesy of SCL.


Also in Guinness action, Travis Ortmayer attempted to break his record on the stones and came within 1 second of that time, a strong performance especially considering how hot and humid it was, Mostert said.

In the beer keg weight for height, Zydrunas Savickas hit 7.35 meters, but "then a German guy who specializes in this event," hit 7.40 meters, Mostert said. Mostert did not know the name of the German competitor as his attention was focussed on the strongman competitors.

Talking strongman, Mostert was extensive in praising the way the SCL–Shanghia contest had been produced.

"We had 14 cameras, cheerleaders, special shots . . . beautiful trailer. They already want us back next year.

"CCTV1, the biggest channel in China will be running five episodes of our competition the week before the Olympics," Mostert said. "It will be fantastic."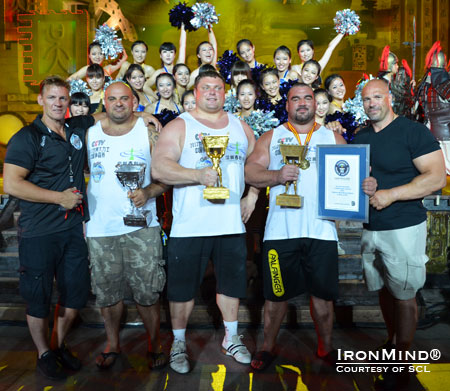 SCL–Shanghai was a huge hit, Marcel Mostert said, and SCL will be back again next year. Mostert far left) and SCL-cofounder Ilkka Kinnunen (far right) flank the SCL–Shanghai top three: (left to right) Laurence Shahlaei, Zydrunas Savickas and Ervin Katona.

###

The IronMind Forum: discuss this article, talk strength, get help with your training.

You can also follow IronMind on Twitter.