Eric Frasure Wins Grandfather Mountain Highland Games
If you're a MILO® reader, you're no stranger to the name Eric Frasure . . . or Francis Brebner, and who better than Francis Brebner to call the action at the Grandfather Mountain Highland Games, where Eric Frasure added another feather to his cap.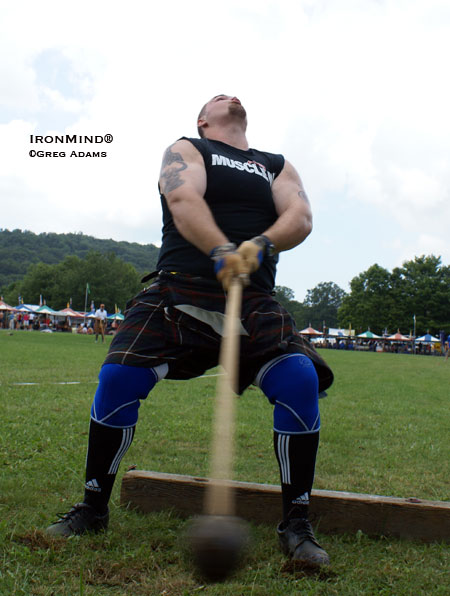 He weighs 320 and he shrugs almost half a ton, but Grandfather Mountain Highland Games winner Eric Frasure told Francis Brebner that he wants to trim down a bit and "work more on the hammers as I want to focus on the IHGF World Hammer Championships in Pleasanton . . . late in August." IronMind® | Greg Adams photo.


Grandfather Mountain Highland Games by Francis Brebner

Grandfather Mountain Highland Games had a great turnout of spectators, with an estimated crowd of 40,000, who were enthralled with a great competition, which saw Eric Frasure and Kerry Overfelt battling it out throughout the day for the number one spot.

In the opening event, the stone putt, Bert Sorin dominated with a world-class putt of 49' 3-1/2", with Frasure in second with 47' 2-1/2" and Chris Chafin in third with 44' 7".

Frasure won the 56-lb. weight for distance marginally with a distance of 44' 3-1/2", over Overfelt who placed second with a throw 43' 10". Sorin placed third with 38' 5".

Again in the 28-lb. weight for distance, Frasure dominated with a worthy throw of 87' 3-1/2". Frasure added that the weight that was being used was a very dour one, but he was more than pleased with his throw despite this. In second was Overfelt with 84' 3", and in third, Sorin with 80' 7".

Going into the 22-lb. hammer, Frasure did not feel comfortable in his winds with the hammer despite pulling out a remarkable winning distance of 118' 7-1/2"; Overfelt was second with 110' 1" and Mike Pockoski third with 107' 4". Frasure mentioned his turns with hammer did not feel as smooth as usual, explaining that his bodyweight is around 320 lb. at the moment, and even though he is strong, doing shrugs with as much as 945 lb. for a set of 5 and barbell curling 365 lb. for a set of 5 also, he said, "I feel that I need to drop my bodyweight to around 290 lb. and work more on the hammers as I want to focus on the IHGF World Hammer Championships in Pleasanton, which will be held in late August, as both Betz and Brock are throwing the hammers fantastically so far this season."

The open caber, which was 18' and 135 lb., was won by Overfelt with an 11:45 toss on countback, with Pockoski in second with 11:45 and Frasure in third with a 12:15.

The sheaf toss was a close competition between Frasure and Overfelt, with Frasure coming out on top with a height of 31' 3"; Overfelt was in second with 30' and Pockoski in third with 28'.

In the final event of the Games, the 56-lb. weight for height, Overfelt took the win with a height of 17' 6", with Frasure and Chafin tying at 16'.

The overall placings were Frasure, first; Overfelt, second; Sorin, third; Pockoski, fourth; Chafin and Chris St. Clair, fifth equal; and David Lyttle, seventh.

The next Games for Frasure will be in Portland, Oregon, July 19, which will include a strong line-up of pro athletes, like Harrison Bailey III, Greg Bell, Eric Frasure, Andrew Hobson, Lucais MacKay, Daniel McKim, Kerry Overfelt, Mike Pockoski, Lannie Pullon, and the five-time world champion Ryan Vierra.