Elizabeth Horne Grabs Bragging Rights . . . Laine Snook Reloads
Over the weekend, Elizabeth Horne broke the women's world record on the Rolling Thunder®, securing her claim to some pretty big grip-world bragging rights and Laine Snook took a shot at the men's world record, which he holds.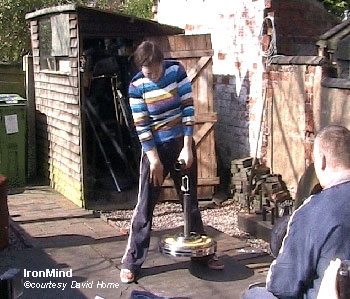 Elizabeth Horne breaks the women's word record on the Rolling Thunder® with a lift of 65.5 kg. IronMind® | Photo courtesy of David Horne.

Elizabeth pushed the women's record up to 65.5 kg and we look for more big lifts in the future. And speaking of the future, don't think Laine doesn't have plans for the men's world record.

"I was not surprised that I did not increase my record," Laine told IronMind®, "as I injured my lower back badly at the end of March and my training stopped at that point. One week before the contest I doubled 283 pounds and was confident that even injured I could increase the record. Two days before the contest I felt good, but after a visit to the osteopath for a last session, I could hardly walk. The day before the contest I telephoned David [Horne] to say that I would not be lifting - later that evening I remembered what Wade Gillingham had said about winning the title - you have to to show up and take the title - so I decided to give it a try. Unfortunately, whilst it felt quite light, I just couldn't stand up with the weight, and I am ashamed to say that it just hurt too much."

But that was just the warm up, because on May 19, at the British Grip Championships, the stage is being set for Laine to take another shot . . . our crystal ball says that 130 kg could be going airborne.