Elizabeth Horne Certifies on the Captains of Crush No. 2 Gripper
You knew it was only a matter of time, because she's a most active and accomplished competitor in grip contests—Elizabeth Horne has just been certified on the Captains of Crush No. 2 gripper.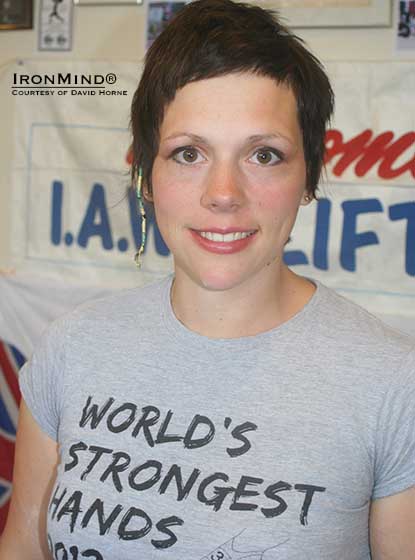 29-year old Elizabeth Horne had been training on Captains of Crush grippers for almost 13 years and her certification on the CoC No. 2 proves that she's achieved a standard of grip strength well beyond most men.  IronMind® | Photo courtesy of David Horne


Make no mistake about it, most men who lift weights will not be able to fully close the Captains of Crush No. 1 gripper the first time they try it and legitimately closing a Captains of Crush No. 2 gripper is a huge feat of grip strength—it marks the standard of grip strength IronMind recommends for men if their life, or someone else's, depends upon their grip strength, and now Elizabeth Horne has become the third woman in history to officially achieve this high standard.

Standing  5' 8" tall and weighing 80 kg, Elizabeth Horne told IronMind that her husband, David, introduced her to Captains of Crush grippers and that she could close a CoC No. 1 on her first attempt, although it's only been the last six months that she has "seriously applied [herself] to training on them.

"We train daily and incorporate various grip elements into our routine most days—it really depends on what particular events I am training for as to what workout programme I follow.  For the weeks prior to this particular attempt on the CoC gripper I have been training grippers 3 times a week. I have to give serious credit to David who has coached me very effectively through the last 24 weeks and brought my gripper strength on in leaps and bounds," she said.

As part of IronMind's pre-certification questionniare, Elizabeth was asked how she uses her hands at work or in a hobby and she replied: "I train them!  Training and exercise are both work and hobby for me so I'm very lucky.  I train on grip specific exercises (as well as all-round ones) most days."

Many thanks to Steve Gardner (of all round, powerlifting and tug of war fame) for serving as Elizabeth's referee on her official attempt and to Elizabeth Horne, Congratulations—your name has been added to the official certification list for the No. 2 Captains of Crush gripper.
                                                                              ###

The IronMind Forum: discuss this article, talk strength, get help with your training.  

You can also follow IronMind on Twitter and on Facebook.