Eleiko WSM Super Series On a Roll
The first stop in the 2008 WSM Super Series had a lot going for it: Set in the world-class Mohegan Sun Casino & Hotel, it featured Poundstone versus Pudzianowski, with the Mighty Kaz throwing out lines like, "The last time I saw traps like that was 25 years ago . . . when I was looking in the mirror."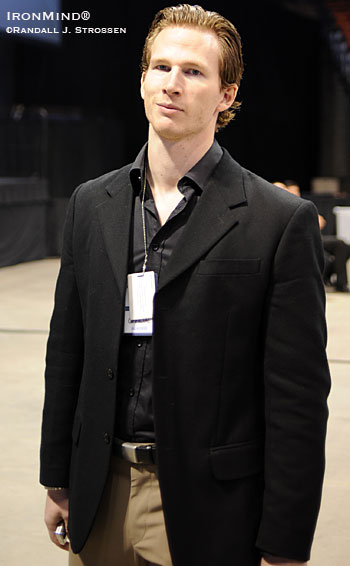 The bearer of good news in the strongman world: Jesper Albansson, managing director of the Eleiko WSM Super Series. IronMind® | Randall J. Strossen photo.

Even better than the moment itself, the contest marked the beginning of Eleiko as the title sponsor for WSM Super Series, which bodes well for everyone involved. Add to this the launch of strongman.tv, which kicked off the night before the contest with live coverage of the IronMind® Rolling Thunder® World Championships and then continued with the Eleiko WSM Super Series Mohegan Sun Grand Prix the next night.

Staying on this roll, strongman.tv will be adding coverage of last weekend's Gaspari Nutrition All-American Strongman Challenge, ready for strongman fans to devour . . . Watch Travis Ortmayer open his 2008 season with a bang.

Sounds as if they have plenty of reason to rest on their laurels, but don't count on it, as rumor has it that the Eleiko WSM Super Series is closing in on a London show in the near future, with even more in store.