Eleiko, the world famous barbell company, is accepting nominations for its US$5,000 scholarship for a deserving weightlifter.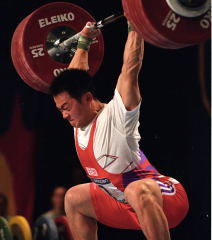 Chinese weightlifting star Zhang Guozheng squat jerks his opener, 187.5 kg, at the 2003 World Weightlifting Championships (Vancouver, British Columbia). Zhang Guozheng and his teammate Shi Zhiyong, both gold medalists at the Athens Olympics, along with their coach, Chen Wenbin, will exhibit their extraordinary talent at the 2005 Arnold. Consider this an hors d'oeuvre for the Beijing Olympics. IronMind® | Randall J. Strossen, Ph.D. photo.
When you are talking about eating or drinking, there are a lot of famous bars, but when it comes to lifting, one name stands above all others: Eleiko. Best known for its superb barbells, the first choice of top lifters world wide, Eleiko also underwrites a number of programs that contribute to the sport of Olympic weightlifting, and their scholarship program is one example.

For details, please check the Eleiko web site.