Edmunds on Koklyaev: "He's Box Office"
Douglas Edmunds, Ph.D., the force behind IFSA, has said that Jon Pall Sigmarsson was like a son, and he calls the bigger-than-life Icelander "IFSA's iconic strongman."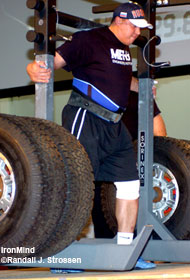 Mikhail Koklyaev (Russia) bears the burden of the MET-Rx Heavy Yoke at the 2006 Arnold Strongman contest. IronMind® | Randall J. Strossen, Ph.D. photo.
So, when Dr. Edmunds says that Mikhail Koklyaev is the guy who comes closest to Jon Pall, that's saying a mouthful.

"He's box office," said Dr. Edmunds, explaining that besides being strong, Koklyaev is "very athletic, good-looking and has a fantastic personality." Dr. Edmunds sees Koklyaev as a triple threat, a guy who can make his mark in strongman, weightlifting and in the Highland Games - the sort of package that will allow Koklyaev to reach out and be recognized by many different groups, said Dr. Edmunds.

Mikhail Koklyaev finished third at the recent Arnold Strongman contest and he told IronMind® that while he will not be competing in the upcoming European Weightlifting Championships, he is planning to lift at the Worlds.