Eddie Hall Wins World's Strongest Man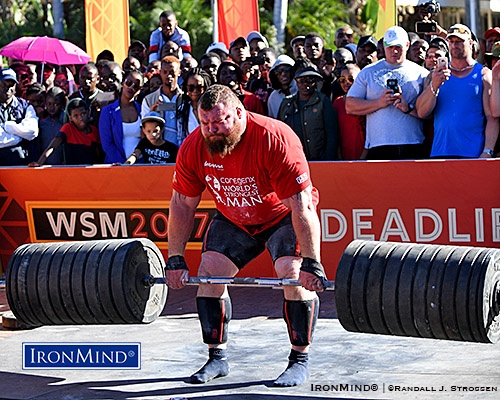 Gaborone, Botswana - Picking up where he left off yesterday, Eddie "The Beast" Hall won the 2017 World's Strongest Man contest.


Today kicked off with the Plane Pull, which was won by Mateusz Kieliszowski (Poland). Hall finished third, which gave him a 2-1/2 point lead over Brian Shaw (USA) and Hafthor Julius Bjornsson (Iceland) going into the deadlift.

As the bar reached 460 kg on the deadlift, it was apparent that Hall was in a class by himself, which he proved by then pulling 472.5 kg with command, winning the event, and yelling, "That's how you do a deadlift!"

Going into the final event, the Atlas Stones, Hall had increased his lead to four points over Shaw and Bjornsson. Shaw and Hall were the final pairing and if Hall made all five stones, he'd win the overall contest, regardless of who won the event, and that's just what The Beast did.


Final Placing


1.  Eddie Hall UK)
2.  Hafthor Julius Bjornsson (Iceland)

3.  Brian Shaw (USA)

4.  Martins Licis (USA)

5. J-F Caron (Canada)

6. Mateuz Kieliszowski (Poland)

7. Laurence Shahlaei (UK)

8. Constantine Janashia (Georgia)

9. Zydrunas Savickas (Lithuania)

10.Nick Best (USA)


                                                                  ###



Follow IronMind on Twitter, Instagram and on Facebook.


Want to talk strength? Visit the IronMind Forum: Strongman, grip, Highland Games, Olympic lifting, stones and more.