Schaumburg, Illinois - Superstar powerlifter Ed Coan said that he is doing one more meet before retiring, and based on how his training is going, Eddie is primed to unleash some very impressive lifts.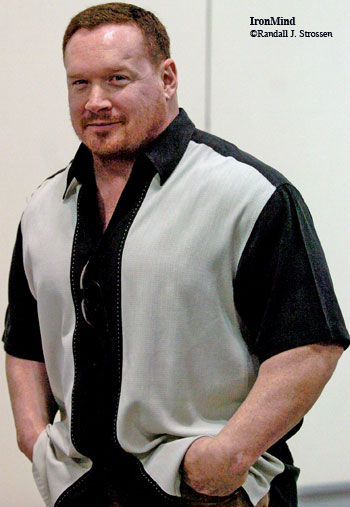 Ed Coan is training hard and getting ready for his final competition. IronMind® | Randall J. Strossen, Ph.D. photo

Watching the action at the USA Weightlifting National Championships yesterday, Ed Coan was immediately surrounded by a group of people eager to say hello to the iconic powerlifter.

The USPF Nationals, on August 11 in Las Vegas will be his last meet, Ed Coan said. "It's just time," he said. "I'll be 44."

What he didn't add was what a ride he has had in powerlifting - a guy who didn't have to use extreme gear or loose rules to post huge numbers, Ed Coan did it the old-fashioned way . . . he's just plain strong.

And talking strong, Ed said he's squatting 800 now with just a belt, benching 500 raw and deadlifting 800 on a three-inch block with no belt, so the stage is set for a big show in Vegas.