EJ Livesey Certifies on the IronMind Red Nail™
It started in 1995, when IronMind certified that John Brookfield had bent the infamous IronMind Red Nail under official conditions, and while short steel bending standards have risen dramatically in the last decade, making the Red Nail Roster remains essential to every lower arm Hercules—congratulations to the latest man to make the mark, EJ Livesey.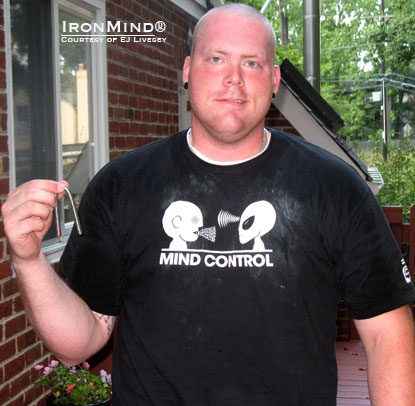 EJ Livesey is the latest man to make the Red Nail Roster, proving his worth as a short steel bender. IronMind® | Photo courtesy of EJ Livesey.


Saying that he's "been bending nails for about 10 months now," EJ Livesey found his niche and he said that "since January . . . I have bent well over 100 reds [IronMind Red Nails]. I waited this long because I really to have no doubts going into this [official] bend."

Standing 6' 2" tall and weighing 250 lb., EJ Livesey "works for the Department of the Army as contract security," and besides "bending just about any piece of steel I can," his hobbies include working on his WRX and lifting. He's got some PR lifts he's aiming for, plans to trim down a little, and certify on the IronMind Gold Nail.

IronMind felt particularly honored to have Collin Moshman serve as EJ Livesey's referee, so many thanks, Collin, and EJ, all we can say is, Way to go—it's official, your name has been added to the Red Nail Roster and you're now a part of steel bending history!

###

The IronMind Forum: discuss this article, talk strength, get help with your training.

You can also follow IronMind on Twitter.