Dutch Strongman Jarno Hams: Dancing with the Stars on Ice
"The seven times Dutch strongman champion Jarno Hams has very busy months lately, as he reached this week the quarter finals of the Dutch TV show Dancing with the Stars on Ice," Marcel Mostert reported to IronMind.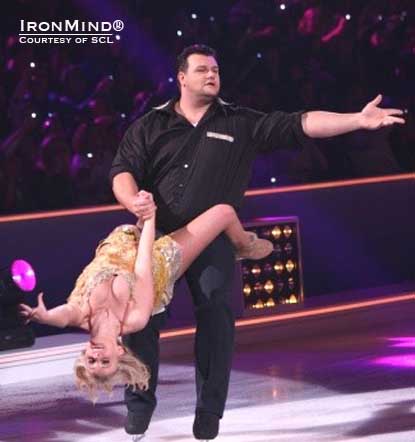 Why lift logs and stones when you could be doing this instead?" some strongmen might be asking themselves when they see fellow strongman competitor Jarno Hams competing in Dancing with the Stars on Ice. IronMind® | Image courtesy of SCL.


It is a special show ,broadcasted on SBS 6, a big commercial TV channel in Holland. He is doing very well so far. At 18 November he was the finalist in the Strongman Champions League in Martinique. Right after that he started his training on the ice.
 From +35 to -5 degrees and he was training really hard all the in December, to learn all the turns, backward and forward ice skating and lifting his partner in all ways, far from log lift ways.

Jarno is of course already very satisfied he reached the quarter finals, but he wants more now. In a special training this week he will learn some new moves which must bring him again a round closer to the finals!

If you want to see him ice skating, click this link.

### 



The IronMind Forum: discuss this article, talk strength, get help with your training.

You can also follow IronMind on Twitter.