Durry Becker Certifies on the IronMind Red Nail
Four months into his steel bending career, Durry Becker has just been certified on the IronMind Red Nail.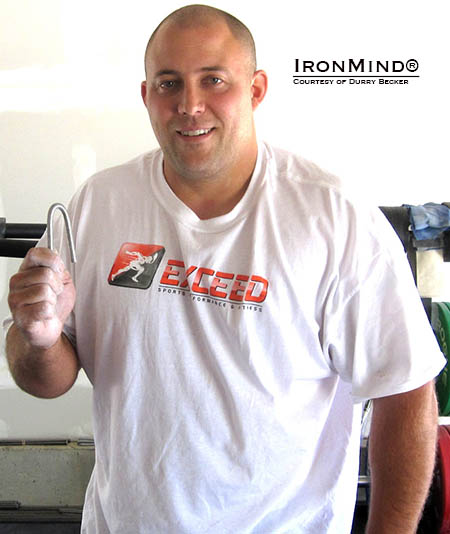 "Lower arm/wrist strength is not important for my job but my hobby is weightlifting and grip training so it is important for that, Durry Becker, just certified on the Red Nail, told IronMind. IronMind® | Photo courtesy of Durry Becker


"Becker told IronMind, "I heard about bending through the IronMind website and then I started watching Bend videos from Red Nail benders on youtube. I typically bend once a week. I superset nail bending with heavy weighted dips or bench press.

"I work in the garden department of a home improvement store. I enjoy spending time with my wife and one year old daughter as well as training in my garage gym with my brother. My training goals are to close and certify with a Captains of Crush No. 3 gripper as well as bend a Gold Nail," Becker said.



Many thanks to Dan Pace for refereeing Durry Becker's official attempt to bend an IronMind Red Nail—congratulations, Durry, it's official and your name has been added to the Red Nail Roster.

###


Want to talk strength? Join the IronMind Forum.

You can also follow IronMind on Twitter and on Facebook.