Dunn, Chandler, Berrichoa, Brzenk x 2
Ice storms and cold weather couldn't stop Reno Reunion VIII and despite some rough weather around the country, top pullers descended on the Boomtown Casino & Hotel.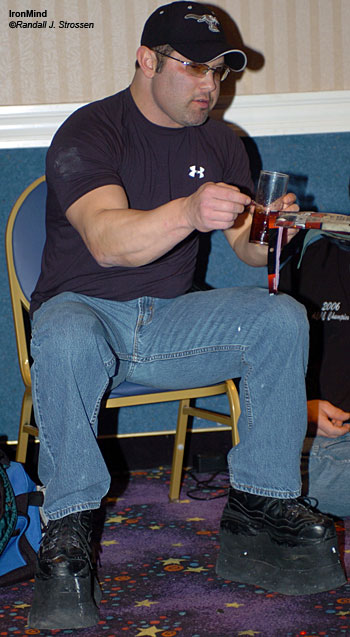 Fueling up before the finals, Simon Berriochoa was about to hit paydirt as a pro 177 - 198er for the time - Simon said he weighed about 185 (including the shoes?), but even with this win, Simon said he will be going back down to the 155 - 176s. IronMind® | Randall J. Strossen, Ph.D. photo.
Gene Dunn took top honors in the right-hand pros 0 - 154, followed by Kyle Knapp in second and Joe Clark in third. In the pro right hand 155 - 176, Chris Chandler got first place, Mike McGraw came in second and Brandon Dye was third. Notching his first pro win in the 177 - 198s, Simon Berriochoa took top honors, with Chris Chandler getting second place and Randy Weaver taking home third place. John Brzenk and Tom Nelson were first and second, respectively, in the pro right hand 199 - 242s and the 243+ class. Scott Fleming was third in the 199 - 242s and Conan took third in the 243+ class.