If you're looking for an alternative to radioactive strongman, thank Pat Rankin, the rest of the original St. Louis strongman crew, and the USSF's Ty Phillips for putting together the pieces.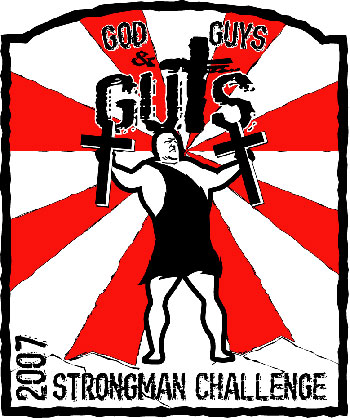 If you've been wanting a drug-tested strongman contest, plan to be in St. Louis next February, because Pat Rankin, with a little help from his friends, is serving one up. IronMind® | Artwork courtesy of Rick Fowler.
St. Louis and strongman are synonymous with much that is good and well-liked in the sport - going back to the days when Jim Davis, Pat Rankin, Rick Fowler and Wayne Eilerman put together what are still regarded as some of the highest-level and most popular shows in American strongman.

Pat Rankin and his Have Bible Will Travel church are the prime movers on this one, but part of his team is the others principals of the St. Louis strongman world - Wayne Eilerman, Rick Fowler and Jim Davis - and talking to them, everyone is of one mind: They wanted to hold a drug-tested strongman contest and when they discussed this with NAS last year, they said that they were turned down, so this year they decided that this was no reason not to go forward with their plans. "This show is a fundraiser for Pat Rankin's church," Phillips told IronMind®. "This show will be open to both pros and amateurs alike as long as they are clean and willing to be tested."

Prize money is not yet set, but the events will be: log press (reps), crucifix hold, front cross carry/sled drag medley, and fingal's fingers. The contest is scheduled for February 24, 2007 in St. Louis.