Drama-Packed Men's 77-kg Class at IWF World Championships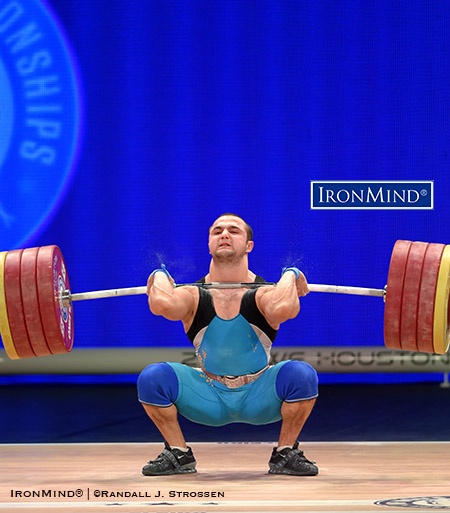 The men's 77-kg category uncorked its first surprise before the A group had even begun lifting because Azerbaijan's Elkhan Aligulizada cleaned and jerked a whopping 203 kg, for a new junior world record, setting a standard that was going to challenge the A session competitors.



The next big surprise was Tigran Martirosyan (Armenia) bombing out in the snatch, which made it look like things would only be that much easier for Lu Xiaojun to sweep the class. The Chinese lifter won the snatch with 175 kg, missed a world record attempt with 177, and appeared poised for from an easy win and possible world record attempt in the clean and jerk, but things don't always go according to plan: Lu cleaned 201 kg three times, but he missed the jerk each time.

With two attempts left in the clean and jerk, Nijat Rahimov (Kazakhstan) attacked leader Kim Kwang Song (North Korea), jumping 12 kg on his second attempt and making an impressive 207-kg success. Rahimov took 211 on his third attempt, chasing the world record, but once again Oleg Perepechenov's 210-kg mark stood firm.

And that 203-kg lift made by Elkhan Aligulizada in the B session? When the dust had settled, it proved to be good for the silver medal in the clean and jerk.

Please visit the IWF website for complete results.

                                                            ###



Follow IronMind on Twitter and on Facebook.


Want to talk strength? Visit the IronMind Forum: Strongman, grip, Highland Games, Olympic lifting, stones and more.