Dr. Douglas Edmunds on IFSA: "There Will Be Changes"
Dr. Douglas Edmunds, founder of the original IFSA and a leading figure in the new IFSA, told IronMind's Randall Strossen that "there will be changes" as the new IFSA continues to seek firm footing in the strongman world.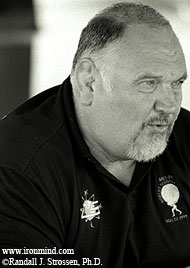 Simpler days in the strongman world: Douglas Edmunds, IFSA founder, in Hawaii for the original Super Series, which he helped launch. Then, Edmunds was a key resource for identifying competitors, designing events and supplying equipment for the World's Strongest Man contest; this past year, IFSA and World's Strongest Man Super Series went their separate ways. IronMind® | Randall J. Strossen, Ph.D. photo.
Dr. Edmunds was candid in acknowledging that IFSA is significantly in arrears with the payments to its athletes. "A substantial amount of money is going out next month," said Dr. Edmunds, but he also emphasized that he could not guarantee exactly how much would be paid to each athlete. Dr. Edmunds explained that the financial pressure in terms of the IFSA revenue shortfall was due to the need to take a three-year perspective on achieving profitability, rather than thinking it could be achieved in one year.

"There will be changes," Dr. Edmunds said. "There have to be changes."

For years, Douglas Edmunds and his original IFSA group played an important support role to the World's Strongest Man contest, the brainchild of TWI-IMG senior executive Barry Frank and the absolute leader in the field by a tremendous margin.

IFSA split off from the World's Strongest Man contest last year, and as part of its efforts to establish a leadership role in the strongman world, it signed up most of the world's top strongman competitors to exclusive contracts with the carrot of salaries plus cash-rich prize lists at its contests. As the inaugural year unfolded, IFSA had some significant successes, such as introducing its pyramidal qualifying system, an athlete ranking system, and a series of standardized events which used the stunning stainless steel equipment created by strongman event maestro Jamie Reeves. The IFSA contests have also been characterized by having very heavy events. On the other side, though, multiple IFSA contests were cancelled, attendance at the biggest IFSA contests has been much lower than projected, a number of athletes have voided their contracts, and IFSA payments to athletes are substantially behind schedule.

Looking forward, Dr. Edmunds said that despite the growing pains, when the expected monies are disbursed, the IFSA athletes, "should have more money than they've ever had before," and the basic contest structure established this year will go forward in 2006. Also, Dr. Edmunds said that the TV shows developed from the IFSA World Championships in Quebec last month are of "unbelievable quality," and discussions are in process at the moment to sell the broadcast rights.

"It's a three-year game," Dr. Edmunds said, "and you have to stick with it."

And as for reconsolidation in the strongman, Dr. Edmunds said, "I would like to see one sport," although he doesn't have a quick view of how that can be achieved. The current state, with multiple federations, "Just runs down the sport," said Dr. Edmunds, "and makes it subject to ridicule. One federation should feed all promoters," Dr. Edmunds said.