Dr. Douglas Edmunds: "I Haven't Resigned From IFSA"
Reacting to the rumors circulating around the strongman world that he has resigned from IFSA, Douglas Edmunds, Ph.D. told IronMind®, "I haven't resigned from IFSA, although I have come close a couple of times."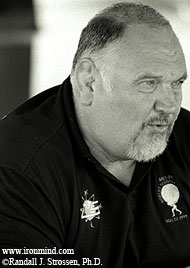 Dr. Douglas Edmunds, who along with Jamie Reeves, Marcel Mostert and Ilkka Kinnunen - the group IronMind® dubbed "the four horsemen" - looks to the future of the sport that bears his fingerprint. IronMind® | Randall J. Strossen, PhD. photo.
Clearly dealing with the frustrations stemming from a field that has fragmented, Dr. Edmunds said, "Fragmentation: that is the real problem, and they all tell lies except us. Whenever you have fragmentation, it gets sleazy."

The man known as the godfather of strongman went on to say that "things are going well at the moment," and he is very enthusiastic about the upcoming IFSA 2005 competition highlights DVD which he says "will open up the markets."

"It's a universal truth," Dr. Edmunds said, "strongmen very quickly become old women," lamenting some of the growing pains the sport has experienced lately.

But don't think Dr. Edmunds is either a doomsdayer or has thrown in the towel on the sport which he helped develop and put on the map, as he is quick to point to the upcoming Arnold Strongman contest as sign of the great things going on in the strongman world right now.

"We have opened the gates to all the great guys . . . Everybody who is anybody has been invited. Come and show us how good you are.'"