Dominic Martin Certifies on the Captains of Crush No. 3 Gripper
With Francis Brebner and Odd Haugen refereeing, Dominic Martin officially closed the Captains of Crush gripper and has just been certified.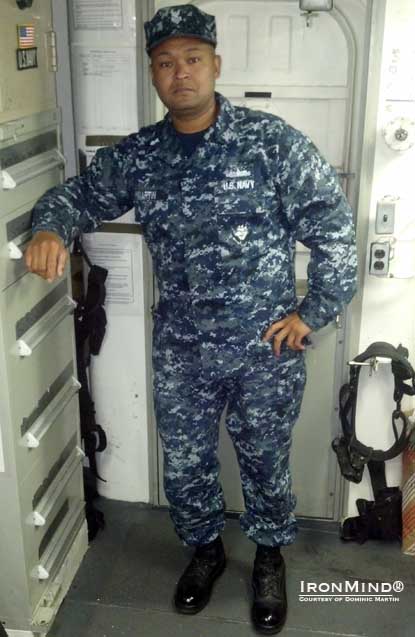 US Navy Gunner's Mate Dominic Martin has just been certified on the Captains of Crush No. 3 gripper. Martin is 29 years old, stands 6-feet tall and weighs 235 lb. IronMind® | Photo courtesy of Dominic Martin.


Saying he closed the Captains of Crush No. 2.5 "right out of the package," Dominic Martin was soon on the trail to officially close the CoC No. 3.

"As a Gunner's Mate in the US Navy, you need to have strong hands. From unbolting machine gun mounts, carrying 90 lbs machine guns up 2-3 decks across 300-400 feet, to carrying 100 lb. ammo containers across the same distance, your hands need to be able to sustain the hard work you'll endure day in, day out.

"I never really had a sound, consistent grip strength program. On my first two ships, I would bet co-workers sodas or daily tasks that they couldn't close the 2.5. I got out of sweeping passageways or taking out the trash a couple of times with this 'sucker bet'.

"When I reported to my current ship, we deployed shortly after I checked onboard. I made a goal to myself that I would close the #3 consistently by the end of the seven-month deployment. I started off with a high-volume, six days a week program. That program helped me close the No. 3 pretty consistently.
"Nowadays, I only train once a week, incorporating grippers, thick bar training, [Titan's] Telegraph Key work, pinch gripping, and lots of wrist strengthening…something I never really did before, but knew was a huge weakness," Martin said.

Many thank to Francis Brebner and Odd Haugen for refereeing on Dominic Martin's official attempt—congratulations, Dominic, you have just been certified and your name added to the official Captains of Crush No. 3 certification list.

### 



The IronMind Forum: discuss this article, talk strength, get help with your training. 



You can also follow IronMind on Twitter.