Documentary Film "Strongman" Coming to Sacramento
Featuring Stanley Pleskun (aka Stanless Steel), a man intent on performing such traditional feats of strength such as bending steel, the documentary Strongman is coming to Sacramento's Guild Theater on August 29.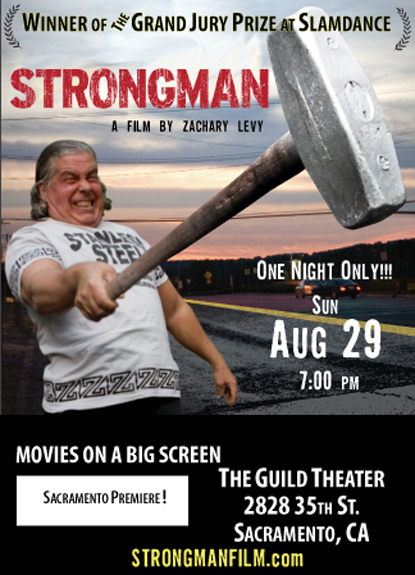 It's about Stanless Steel, the stage name of a man (Stanley Pleskun) who levers sledgehammers and bends pieces of steel at will, a man who is certified on the No. 3 Captains of Crush® Gripper, and who has made lower arm strength his special home—but as filmmaker Zach Levy told IronMind®, Strongman is also about a lot more. IronMind® | Artwork courtesy of Zach Levy.


Brought to Sacramento by Movies on a Big Screen, "an on-going weekly film screening series which shows documentaries and general independent films, along with some classics and cult titles, "Strongman is one of the more involving documentaries on a personality that I've seen in quite awhile, and it works on a number of levels. At face value, it's a deeply personal look at the subject, Stanley Pleskun (Stanless Steel) while also providing a fascinating look at the world of performing strongmen: what is involved with being successful, and their current status within our culture," Robert McKeown told IronMind®.
Complementing the film, "Chip Conrad of BodyTribe Fitness in Sacramento will be in attendance to talk briefly about the history of strongmen and their shows, and the subsequent demise of the phenomenon to a modern small subculture," said McKeown.

Mike Corlett, who profiled Stanley Pleskun for the March 2010 issue of MILO® (Volume 17 - Number 4) said, "At times raw and uncomfortable, at other times fun and inspirational, Strongman depicts just what is humanly possible when you believe in yourself."




Want to talk strength? Join the IronMind® Forum!

You can also follow IronMind® on Twitter.