Dmitry Berestov: Golden Performance in the 105s
Athens – In a field filled with casualties, Dmitry Berestov (Russia) put together five good lifts to grab the gold medal in weightlifting's 105-kg category tonight at the 2004 Olympic Games.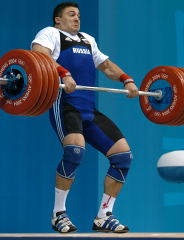 .
Good enough for the gold medal, Dmitry Berestov pulls himself under 230-kg in the clean and jerk. IronMind® | Randall J. Strossen, Ph.D. photo.


Of the leaders, Igor Razoronov (Ukraine) opened first, with a good lift at 185 kg, followed by Ferenc Gyurkovics (Hungary), who made a nice opener with 187.5 kg, as did Berestov. Berestov is coming off a second place finish at this year's European Weightlifting Championships, and had to beat Vladimir Smortchkov in the Russian trials to make this team, and he didn't waste the opportunity, going on to hit 192.5 kg and then the same 195 on his third attempt that Gyurkovics had just stuck for an Olympic record. Razoronov had missed 190 kg on his second attempt, and although he successfully repeated on his third attempt, that miss cost him dearly.

Gyurkovics missed the jerk on his 220 kg opener, and must have had the Hungarian team sweating bullets, but their anxiety levels were about to rise because they moved him up to 222.5 kg, only to have his second attempt turned down two to one. Berestov opened with a nice 225 kg clean and jerk, which put him in the lead. Gyurkovics threw caution to the wind, moved up to the same weight, made a nice lift, which put him in the lead and would hold up for the silver medal.

Razoronov opened with 230 kg, which would put him equal with Gyurkovics on the total, but he was the heavier man, and he missed the jerk out front. Berestov was the successful with the same lift, which put him in the gold medal position and he never lost it. Razoronov repeated with 230 and was clearly relieved to make a good lift—after an easy clean, he walked to front edge of the platform to save the jerk. On his third attempt, Berestov missed the jerk at the last minute with 232.5 kg, which meant that Razoronov had a chance to win all the marbles on the final clean and jerk of the competition, but he only did a pull with the 235 kg.