Dmitriy Lusin Certifies on the Red Nail
Dmitriy Lusin has just been certified on the IronMind Red Nail, making him the latest member of the Russian Iron Grip community to achieve this worldwide benchmark steel bend.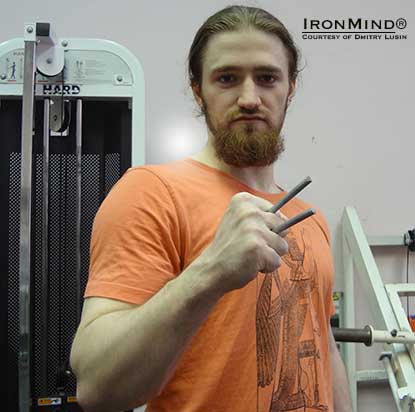 26-year old Dmitriy Lusin is the latest man to be certified on the IronMind Red Nail. Dmitriy is about 5' 10" (178 cm) tall and weighs about 176 lb. (80 kg). IronMind® | Photo courtesy of Dmitriy Lusin.


With Alexei Ovsiannikov refereeing his official attempt, Dmitriy Lusin completed his official bend and his name was added to the Red Nail Roster, the offical list of men certified on the Red Nail. Many thanks, Alexei, and congratulations, Dmitriy—nice work!

Dmitriy Lusin told IronMind that he began bending nails two years ago, and on his first try, he bent an IronMind Yellow nail.

Dmitriy said he alternates two or three month periods of training with breaks of a few months: "When I'm bending I do it one time a week. In my training day I warm up with a push ups and with a sledge hammer, then I bend different pieces of steel from easy ones to the IM [IronMind] Red nail and harder. I really like bolts and stainless steel bars.

"For a more than two years my main hobby is a grip sport. Especially I like hand grippers! Thanks to the Russian grip community 'Iron Grip' I learned about this amazing sport. I plan to certify on the IM [IronMind] grippers in the future. Also Gold Nail is my long term goal. Besides sport I like knives and other weapons and everything related to them. I like acoustic guitar music and cello music. Still, my family and my friends are more important to me, than any of my hobbies."
###



Visit the IronMind Forum: talk strength, discuss this story. Strongman, grip, Highland Games, Olympic lifting, stones and more.

You can also follow IronMind on Twitter and on Facebook.