Dmitri Khomiakov Holds on for Victory in the 77-kg Class
Two lifters had a chance to knock him from his throne, but Dmitri Khomiakov (Russia) held on for the victory in a hotly-contended 77-kg category at the 2013 European Weightlifting Championships in Tirana, Albania.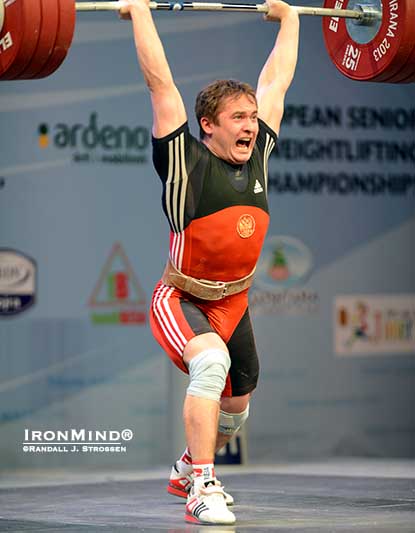 There were two attempts left and either one could dethrone Dmitri Khomiakov, but when he made this 190-kg clean and jerk, he went into gold medal position and it turned out that's where he stayed. IronMind® | Randall J. Strossen photo.


Khomiakov snatched 155 kg, 159 kg and 161 kg to go into the clean and jerks with a one-kg lead over Andranik Karapetyan (Armenia) and a bit more of an edge over the two lifters seen as his primary challengers: Alexandr Spac (Moldavia) made three good lifts to end with 157 kg, and Razvan Martin (Roumania) made 153 kg, followed by 156 kg, before missing 158 kg.

The clean and jerk showed how closely matched the lifters in this category were and it was clear that the overall victory could well come down to the final clean and jerk.

Khomiakov once again showed his consistency as he racked up three more good lifts: 180 kg, 185 kg and 190 kg, the last attempt putting him in gold medal position in the total, but Martin, who made 190 kg on his second attempt, and Spac, who made 189 kg on his second attempt, had one more shot at the title.

Spac called for the 194 kg he needed to bump Khomiakov on bodyweight, and after cleaning the weight, drove it up, but could not quite fix it. Martin followed with the 195 kg he needed to move into first place on bodyweight, but he could not rack the bar, and had to settle for the bronze medal in the total, losing the silver medal to Spac on body weight.

###
Visit the IronMind Forum: talk strength, discuss this story. Strongman, grip, Highland Games, Olympic lifting, stones and more.

You can also follow IronMind on Twitter.